We are approved to undertake all forms of insurance repairs.
If you are unfortunate enough to have had an accident, but wise enough to have your caravan insured, the normal procedure to have the caravan repaired is as follows.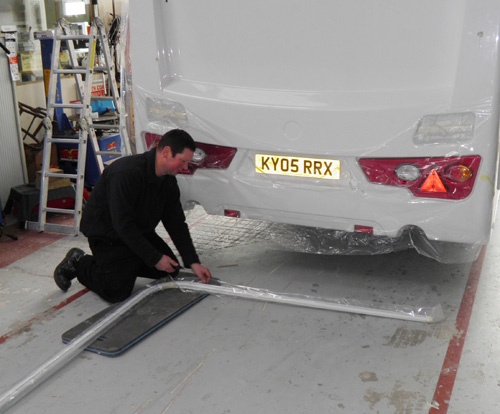 1. Ensure the caravan is secure, covered and if on the road not dangerous to other road users. If it is not towable instruct your recovery transport to take it to your chosen repairer.
2. Contact your insurer and ask for a claim form and confirm their particular procedure to process the claim. Most insurers ask you to have one quote for the work, then authorise the repairer to proceed. Sometimes two quotes are required from reputable repairers and they authorise the most reasonable repairer to proceed. In the event of a major claim they may send an assessor to confirm the damage and proposed repair before authorising. If you have a deadline to use the caravan, make it clear to the insurance company, they will usually do everything they can to help you make the deadline.
3. Once we have written authority from the insurer, we place an order for the parts required and schedule the caravan for repair. Some parts can take considerable time to arrive, as they have to be made specially, so it is important to start the claim as soon as possible and get an estimate of the time the parts are expected to take. If the damage is not too heavy we can normally effect a temporary repair to allow use of the caravan.
4. Once the caravan has been repaired it is time for you to inspect the repair and sign a satisfaction note. Most insurers charge an excess amount on each claim, normally £50 or £100 which is payable to us on collection. It is important to include everything in the one claim, or the excess may be charged twice.
For more information do not hesitate to Contact Us.